Help for flood affected properties
Lime Green, the successful and fast expanding British company specialising in quality lime products, is offering a discount of up to 20% via its Yorkshire distributor on key materials to those affected by the recent severe flooding.

The company's easy to use award-winning lime-based products offer long-term protection from water damage with a range of mortars, plasters and paints that are both breathable and dry out much faster than cement based products.
Lime Green's head of marketing, Dominic Putnam, who lives just outside of York, has seen at first hand the devastation caused by the floods with friends and neighbours affected. "When I saw the extent of the floodwater damage caused to so many properties in the city and surrounding areas I wanted to find a practical way of helping the home owners and businesses affected and to help them improve their defences in the future," says Dominic. "I spoke to Womersley's, our distributor for Yorkshire, and we came up with this special offer."
Using lime is sustainable, better for the environment and, crucially, can help a property recover faster from the damage caused by floodwaters. All of the products being offered at a discount comply with the flood repair guidance from the Environment Agency under the 2014 Flood Support Scheme and may be eligible for a local authority grant.
Based in a quarry and Site of Special Scientific Interest (SSSI) in Shropshire, West Midlands, Lime Green is an eco-conscious family business set up and run by two brothers – Simon and James Ayres. The brothers, who have many years experience of restoring old buildings with suitable materials, are fully behind the discount initiative.
Simon explains: "Lime Green is really keen to play a part in seeking to help those who've been affected by the appalling floods. We're a family run company and understand how both businesses and individuals have been hit by recent events. We also wanted to offer something that will help to mitigate against these sort of events in the future for home owners and businesses. The Lime Green team are ready to talk to and advise flood victims on why lime is so beneficial both in protecting and recovering from floodwaters."
Lime Green's wall protection system uses Lime Green Ultra as a basecoat, Solo as a plaster coat and Beeck mineral paints as a finishing coat. Lime Green's pure lime mortar is also water resistant.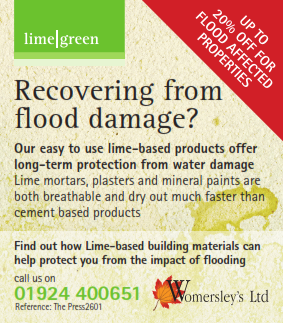 To find out more about how lime based building materials can help protect from the impact of flooding, call Lime Green on 01952 728611 To discuss the special offer please speak to Lime Green's Yorkshire distributor, Womersley's on 01924 400651.