Conservation Project: The Ribblehead Viaduct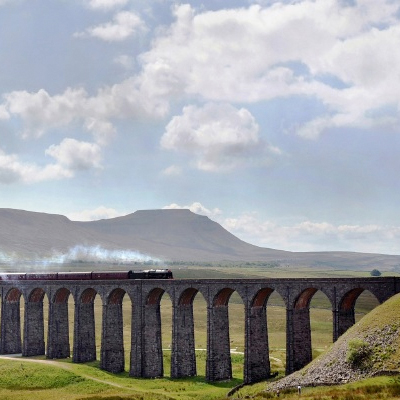 Spanning quarter of a mile and standing 100 feet above the valley it crosses,The Ribblehead Viaduct has long been an iconic landmark on the historic Settle-Carlisle Railway Line. But its location on the barren moorland of North Yorkshire means that this Grade II Scheduled Ancient Monument is constantly exposed to high winds, heavy rain and low temperatures.
The Requirement
An ongoing programme of repointing is required to keep The Ribblehead Viaduct in good condition. Given the conditions, any mortars used in repair and preventative maintenance work have to be of the highest specification to ensure the viaduct's 1.5 million bricks and limestone blocks, weighing as much as 8 tonnes, remain structurally sound.
The Problem
Specified mortars must be able to withstand the expansion and contraction that comes from frequent temperature changes and to allow the old 140-year old bricks and blockwork to breathe. So they must be robust enough to deal with high moisture levels and able to flex without cracking.

Mortars must also meet the strict requirements of the organisations responsible for maintaining ancient monuments, and be in keeping with the original materials used.

From a practical perspective, the lime mortar has to remain sufficiently workable so it can be applied even in bad weather conditions.
The Solution
Under such conditions, Lime Green's Prompt Mortar offers a highly effective conservation solution. Used for repointing where conditions are challenging, such as on exposed castle walls, bridges and canals, or where works have to be completed within a tight time schedule, as in the case of tidal stonework.
As its names suggests, Prompt Mortar is specifically designed to go off fast by incorporating a traditional binder - also called prompt. This was used before the development of Portland Cement, and when mixed 'neat' will set in just three minutes!
The Benefits
By mixing prompt with our lime mortars, we can introduce rapidity of set in a traditional lime mortar base. This makes it the perfect solution where normal hydraulic lime mortar would take too long to go off.

The introduction of prompt binder has no discernible impact on the breathability of lime.

Prompt Mortar is easy to handle, as 25kg bags can be mixed on site.

It can also be applied when working temperatures are little more than freezing, which means longer working periods even in winter.

Prompt Mortar also has the structural strength to cope with bad conditions, providing a robust pointing solution.

It comes in a range of colours and can be matched to existing lime mortars, so maintaining visual continuity.

Prompt Mortar has been carefully designed to minimise the cracking that can occur when water within the mortar tries to escape to the surface.
Lime Green's Prompt Mortar may have a long history, but we've made sure that it remains very much a modern-day solution where speed of set is essential.