Project: London's King's Cross Station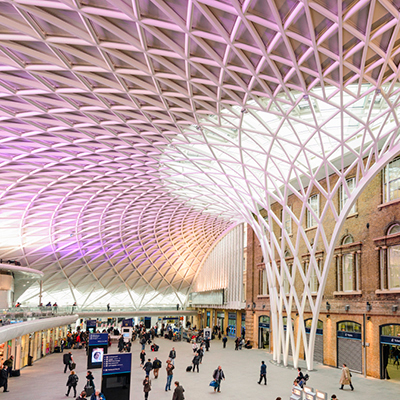 London's King's Cross Station is undergoing extensive development and regeneration. But as a landmark location, special care must be taken to preserve the area's historic character and nature.
The organisation responsible for doing this is English Heritage. In particular, they are keen to retain the 'natural' look of London's King's Cross Station, meaning that the renovation of existing buildings has to be undertaken sympathetically and in keeping.

The Requirement
So when it came to the repair of brickwork and high-level decorative cornices damaged during the Second World War and left untouched since, they set out a very detailed specification for their reinstatement.

This meant ensuring that, particularly when it came to lime mortar, the colour should remain consistent throughout, so as not to give a patchwork appearance to hundreds of square metres of wall.
The Problem
However, there were a number of fundamental problems in achieving this:
Artificial pigments couldn't be used in the lime mortar because they were not used originally, so any colour had to come from the materials alone.

There was the added difficulty of maintaining consistency of colour, so that the lime mortar applied on the first day had the same colour and texture as the lime mortar applied on the last.

For health and safety reasons no dust could be created that might affect the public or machinery, so any batching had to be done off-site.

The Solution
Lime Green was asked if it could meet those requirements. After numerous site visits, and much research and experimentation that saw us carefully mixing and remixing the constituent materials, we had a nine-ingredient lime mortar that was the perfect colour match for the one already in place.
With English Heritage and their architects satisfied, and our prompt-based Roman stucco render also chosen for the cornices, work began.
To ensure consistency of the product was maintained throughout the process, the lime mortar was carefully mixed. Checks were then made on each lime mortar batch, before being sent to site 10 tonnes at a time.

The Benefits
Besides being of high-quality, our specialist Lime Green products also had other advantages.
The lime mortar was as easy to use as a cement-based product, so contractors could work more quickly than traditional site batched lime-based mixes - important when they were on a tight time schedule to complete or face stiff penalty clauses.

Our Roman Stucco plaster sets rapidly, therefore the contractors could work more quickly - which meant that the plasterers could build up the cornice to size as they went, using zinc blades to shape and maintain the cornice's still soft profile.

Due to the inherent flexibility of both lime mortar and Roman stucco render, there was no need for unsightly expansion joints in the facade, as there would have been if cement-based plaster had been used.
Our products were the only ones that ticked all the boxes, not just for English Heritage, but also for their teams of advisers and their contractors, who found working with our lime mortar and Roman Stucco plaster quicker, easier and more enjoyable than using standard site mixed mortars and plasters.

English Heritage were so pleased with our lime mortar at London's King's Cross Station, that having discovered it, they have specified it again for other projects elsewhere.