Restoration Project: Sir Peter Scott Lighthouse
A Shining Example of The Use of Roman Stucco Cement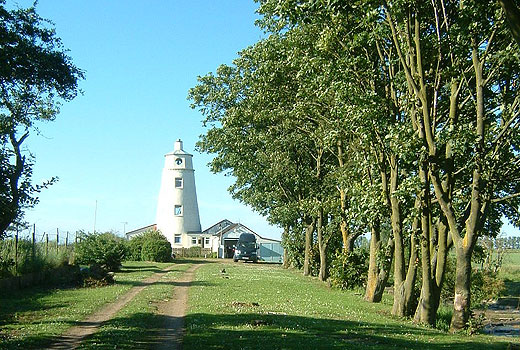 STANDFIRST
The Sir Peter Scott Lighthouse near Sutton Bridge in Lincolnshire has a rich and varied past. Once home to world famous naturalist Peter Scott himself, it was also an inspiration for novelist Paul Gallico, who featured it in his acclaimed novel ' The Snow Goose.'
Despite its illustrious past, nearly 40 years of disuse and neglect had left what has been called 'the most iconic and inspirational building in the history of global conservation', in need of some conservation itself.
It wasn't until 2010, when it was bought by Doug and Sue Hilton for their conservation charity, now called the 'Snow Goose Wildlife Trust', that the lighthouse was given a new lease of life.
However, even for Doug, with his previous background in construction and property, bringing this building back to life was going to be far from easy.
The Requirement
The major restoration challenge was how to protect the building's fabric and stop further water ingress. Given that the lighthouse is Grade II listed, the existing lime render couldn't be replaced with a cement-based alternative, even if Doug had wanted to, but to do this meant overcoming a number of significant technical obstacles.
The Problem
Unlike a building with vertical walls and eaves above, the Lighthouse's sloping sides had no protection from rain. What fell at the top of the building simply washed down the walls, entering any surface crack on the way. Inevitably this allowed water to reach beneath the exterior wall render, eventually loosening its bond with the brick.

Worse still, the lighthouse had been built with exceptionally porous brick, which would suck water from the render before it had properly set. This inherent structural problem meant that the bond between brick and the original render had always been suspect.

The lighthouse's sloping sides would also impose their own specific stresses on the exterior wall render, particularly given that 220m2 had to be covered.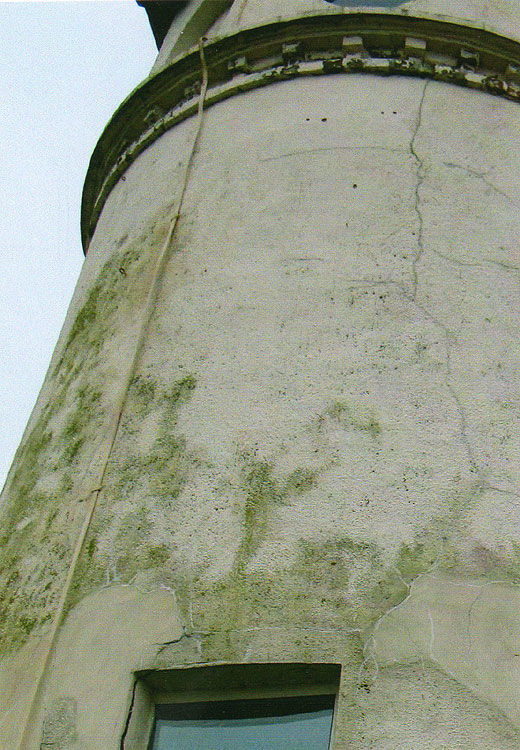 In other words, Doug needed an exterior wall render that had innate flexibility and breathability of lime, but which, unlike a standard lime render, would be very fast drying so that the underlying brick wouldn't deprive the render of the moisture it needed to set.
Given Lime Green's proven expertise and reputation for innovation, Doug was pointed in our direction for the answer.
The Solution
Lime Green's Roman Stucco Cement is a contemporary product that is based on the traditional roman cement used as an exterior wall finish for highly detailed and decorative finishes like those of the Regency houses in Cheltenham, Hastings and Leamington Spa.
Strong, durable with a fine texture and a rapid set, Roman Stucco Cement was our start point for developing the unique solution that Doug needed. Through chemistry and experimentation we were able to create a unique 'lighthouse product' that would not only hold its integrity on sloping walls, but which would also set in under an hour.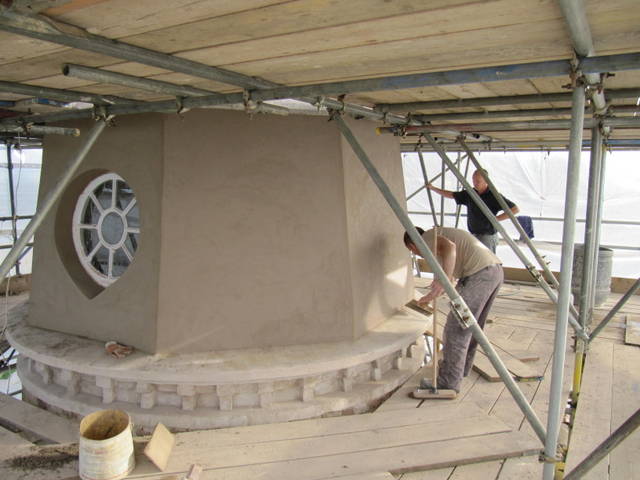 The Benefits
With its fast drying time, Doug was able to get a good bond between the brick and render, though the bricks needed dampening beforehand to reduce their capacity to take up water from the render.
The fast drying time also meant that a Roman Stucco cement stucco base coat could be applied one day, with two further coats the next. This enabled Doug to keep two plasterers and one labourer working on site, with the project finishing far sooner than would normally be the case.
With the incorporation of a mesh reinforcement, there was also the reassurance of knowing that if the lighthouse's sloping sides were to induce any slight movement, the Roman Stucco cement exterior wall render would hold together and stay in place.
Lime Green's work on the lighthouse finished late in 2013 and despite the exceptionally wet winter, there are no cracks to be seen.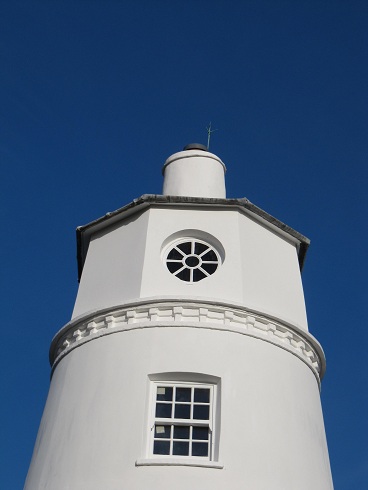 You can find more information about Lime Green Exterior Wall Insulation products and Roman Stucco Cement here: https://www.lime-green.co.uk/products/lime-systems & https://www.lime-green.co.uk/products/lime-render/roman-stucco. Alternatively, please give us a call on 01952 728611 or fill in our enquiry form.