Customer insight - Kim Greenwood at Traditional Green
Here at Lime Green we work with a wide range of interesting customers and clients, from builders and plasterers to architects and home-builders, all with a passion for quality. In the first of a new occasional series, we shine a spotlight on one such interesting client, the inspiring plasterer Kim Greenwood who operates as Traditional Green from her base in Yorkshire. Kim is a keen cyclist and not only cycles to work whenever and wherever she can, but is also accompanied by her dog, Zach!
"I chose not to drive so, initially, I would hike to all the sites I was asked to work on, my limit being a 50 min journey, so in those days I could be walking almost two hours on top of my working day," explains Kim. "By 2013 my business was big enough for me to invest in a bike and now I allow up to an hour of travel to and from sites. Traditional Green HQ is at 500ft but I can get up to 1400ft up the valley sides and onto the moors in an hour, which means that the area I can work in has widened."
Kim's got a real passion for conservation and eco-friendly designs and first became aware of incorporating this passion into her building work back in 2010 when she started volunteering with Amazonails in Todmorden. "This involved working on straw bale builds and my first experience of working with clay and lime as a plastering material. I like things clear and uncluttered in my life and so my aesthetics really appreciate a plastered wall," she says.
It is somewhat unusual for a plasterer to arrive on a bike with their dog but Kim wouldn't be without her beloved Zach. They've been together for eight years now. "For the first few years he was at 'Boot Camp Kim' laughs Kim. "Now I totally trust him, he's voice-commandable, which is important when I'm on the bike and he's running at the side, and he has a few party tricks up his paws. He totally trusts me and he just accepted it when I put him into the pannier for the first time. We're not quite sure what he is, a collie-cross Spits or Pomeranian perhaps. Nowadays, he's in the bag going downhill and running by the side going up!"
Kim does work further afield too, she catches the train with Zach and her bike and last year worked in Dorset, Sussex and Shropshire. "I got to explore more of the countryside cycling from the jobs to my digs than I would have done in a car and Zach loves new places too."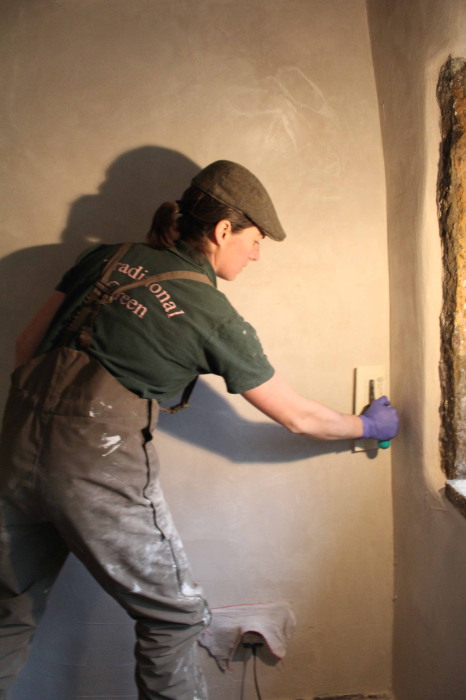 Kim uses a range of Lime Green products in her work but her favourite is Ultra. "I love the twist of mixing a traditional building material with the contemporary ingredient of recycled glass beads. It really does improve the working and effectiveness of the plaster and, weight for weight, I can get more square meters on my bike."
Kim doesn't have a website as she prefers to speak directly to her customers and most of her work comes about through word of mouth. She does, however, have a small showroom behind Hatter & Osier Open Studio in Todmorden. You can contact Kim through the studio on 07766 168 027 or email Kim (and Zach!) directly at traditionalgreen@live.co.uk